VSS 2018: July, 9-11
We are happy to announce that the 15th International Workshop on Variable Structure Systems and Sliding Mode Control (VSS18) will take place at Graz Universitiy of Technology in 2018 (July, 9 - 11).
The detailed workshop programme is available at the papercept submission system. An overview of the programme is given in the table below.
Besides getting your conference bag which includes a ticket for public transportation you can enjoy the included beverages at the welcome registration on July 8 from 4 until 7 pm.
Registration on-site will be possible during the entire programme of the workshop.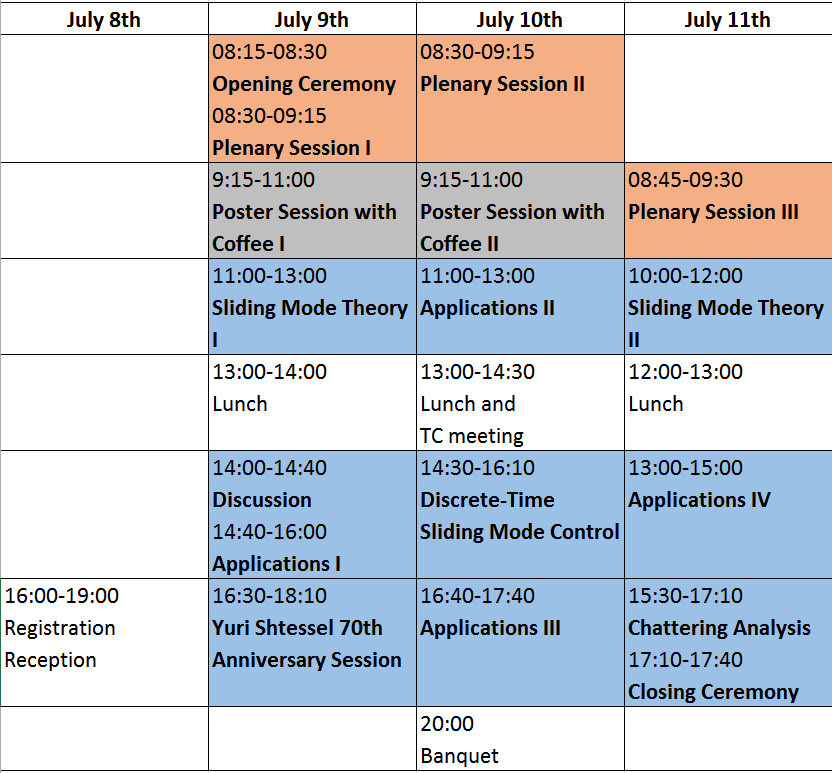 Paper submission and registration
For paper submission and registration to the conference please use the following link.
All papers must be submitted electronically through PaperCept Conference Management System.
Note that the organizers of VSS 18 agreed to have a double-blind review process.
Visa information
Information about a "Schengen Visa" in order to enter the Schengen countries and in particular Austria are available here.
Scope
The scope of the workshop relies on the theory of sliding mode control and observation and in particular on
Higher Order Sliding Mode,
First Order Sliding Mode,
Chattering analysis,
Discrete time sliding mode,
Lyapunov Methods for Variable Structure Systems & Sliding Mode Control,
Homogeneity Methods for Variable Structure Systems & Sliding Mode Control,
Adaptive sliding mode,
Sliding Mode based Observation,
Application of Sliding Mode Control to other theoretical problems.
Applications for instance out of the fields
Automotive Systems,
Hydraulic/Pneumatic systems,
Electric drives and actuators,
Power electronics,
Networked Control Systems,
Multi-agent systems,
Mobile robots,
Fault Detection,
Process industry
are highly welcome.
Important Dates
| | | |
| --- | --- | --- |
| Paper submission site open | | November, 2017 |
| Extendend Deadline for paper submission | | February 9, 2018 |
| Notification of acceptance | | March 31, 2018 |
| Final submission and registration open | | April 10, 2018 |
| Deadline for final submission and online registration | | May 1, 2018 |
Per registration two papers can be submitted, in the case of a student registration 1 paper can be submitted. More papers can be uploaded, however USD 200 will be charged per additional paper. Note that in the case of over-length papers (i.e. papers with seven or eight pages) an extra fee of USD 175 per page will be charged. Please consider, for late registration, which starts at May 1, 2018, USD 125 will be charged additionally, in the case of on site registration USD 200 will be added. An additional ticket for the conference dinners costs USD 95.
There is no option for refunding the conference fees.
| | | |
| --- | --- | --- |
| full-nonIEEE | | USD 550 |
| full-IEEE | | USD 500 |
| student-nonIEEE | | USD 350 |
| student IEEE | | USD 300 |
| | | |
| --- | --- | --- |
| over-length paper | | USD 175 per additional pager |
| late registration (starts with May 1) | | USD 125 additionally |
| on site registration | | USD 200 additionally |
| extra ticket for conference dinner | | USD 95 |